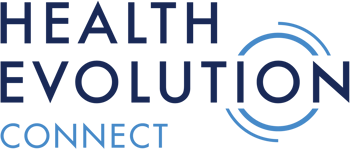 Minority communities are often disproportionately impacted by chronic conditions because of the multitude of barriers they face in accessing quality care and services. The complexity of these diseases and challenges of meeting the needs of diverse patient populations can prove difficult to address. But value-based care has shown its power as a promising solution.
A value-based approach empowers and incentivizes providers and payers to fully consider a more holistic approach to each individual patient, not just their disease or condition. Recently, an expert group of leaders from several provider and payer organizations dug deep into the role that value-based care can play in advancing health equity during a collaborative discussion at Health Evolution Connect 2023 in Nashville.
The discussion was moderated by our chief product and technology officer, Daymon Smith, and featured our chief clinical officer, Carmen A. Peralta, MD and chief medical officer for CareOregon, Amit Shah, MD. More than 30 other healthcare leaders joined the discussion and added their own perspectives. Below are some key takeaways from the discussion.
Why Address Health Equity as Payers and Providers
Dr. Peralta pointed out that health inequities result in worse health outcomes and quality of life, leading to a spiral of human suffering and resource utilization that could be avoided with the right interventions to reduce disparities.
"This is really a much bigger societal question, well beyond just our healthcare industry, which is how do we think about human suffering and how inequities create that human suffering?" she said. "As a society, we must consider the human costs and the actual monetary cost of allowing these disparities to continue."
Dr. Shah agreed that health equity is more than just a metric on a balanced scorecard, "I would argue that we essentially have a moral and ethical obligation to bridge and close those gaps for the highest risk people that we all see every day."
Value-Based Care Models Provide the Support to Advance Health Equity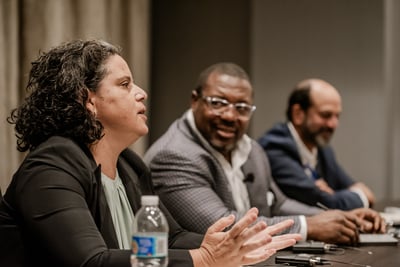 "Carmen Peralta and Daymon Smith lead a panel discussion"
Dr. Peralta explained how a value-based approach and payment model can make it possible for payers and providers to better collaborate for the benefit of all patients.
"As a clinician, if I'm in a fee-for-service world in my practice, I'm probably not going to be able to afford to have a social worker and a dietitian and a pharmacist and a nurse practitioner in my clinic because that's just not really possible, financially," she said. "What's different in value-based care is that if you align the payment with the outcomes, creating the right incentives and the right savings, then there is more of an impetus and flexibility to incorporate those multidisciplinary teams and other resources."
She added that Interwell partners with nephrologist to provide multidisciplinary care teams, advanced technology platforms, and in-depth patient education, to help these clinical practices "succeed in value-based care by providing better, more equitable care and service."
Value-Based Care and Social Determinants of Health
Social determinants of health, the non-medical factors that influence health outcomes, such as poverty, unequal access to health care, lack of education, stigma, and racism are underlying, contributing factors of health inequities.
"We know that one of the main drivers of health disparities are differences in social determinants of health," said Dr. Peralta.
Dr. Peralta pointed out how a value-based approach to healthcare is structured to address many of these factors and can positively impact health equity.
"The shift from fee-for-service to fee-for-value now allows payments to be aligned with the outcomes that patients want to see, and that we want to see," Peralta explained. "It allows for a more holistic way of thinking about the patient and enables us to be able to provide services around overcoming barriers to health outside of just the clinical ones. I can tell you it's more cost effective to ensure transportation to dialysis than to have somebody chronically miss dialysis and need to be in the emergency room all the time."
The Efforts and Conversations Need to Continue
Dr. Shah believes the exact roadmap to value-based care-fueled health equity is still in development and uncertain. But he stressed that uncertainty doesn't mean payers and providers should stop trying.
"The bottom line is that I am still unsure whether it's (the value-based care work currently underway) that is going to produce what we want, ultimately," he said. "But if we don't start innovating and doing things around work like this, it's going to be hard for us to learn what the best thing is. The more that we innovate, and the more we're talking about equity, then it isn't something hidden."
Dr. Peralta agreed, "I'm encouraged that this conversation is actually happening because it hasn't always happened. The fact that we are having this conversation, that the Centers for Medicare and Medicaid Services (CMS) is encouraging us to think about social determinants, that payers are thinking about it, I think that's a real step forward."
Many value-based care models are showing promise with reducing hospitalizations and improving health outcomes – including those by Interwell. But the panel and participants agreed that getting payer alignment to help make more of these models actionable, replicable, and scalable will be key to ultimately seeing their true return in addressing health equity.