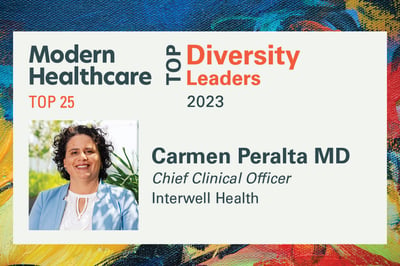 Modern Healthcare has named Dr. Carmen A. Peralta, chief clinical officer of Interwell Health, one of the nation's Top 25 Diversity Leaders for 2023. The profiles of all the winners are featured online as well as in the Oct. 16, 2023 print issue of Modern Healthcare.
Dr. Peralta leads efforts at Interwell to advance health equity for people with kidney disease, including the company's clinical model to improve early identification, risk stratification, and address social determinants of health for this vulnerable patient population. Black and Hispanic-Americans have a high incidence of kidney disease and are significantly more likely than White Americans to advance to kidney failure.
The Top Diversity Leaders in Healthcare recognition program takes great pride in honoring the top diverse healthcare executives and organizations influencing the policy and care delivery models across the country. In doing so, they are also highlighting the continued need to nurture diversity in their organizations.
"Modern Healthcare's 2023 Top Diversity Leaders and organizations exemplify a commitment to meaningful diversity, equity, and inclusion," said Dan Peres, president of Modern Healthcare. "They have exceeded industry standards and continue to devote necessary resources to providing internal opportunities while advancing community health equity, setting a great example for others."
Dr. Peralta is often called upon to discuss chronic disease management and health equity. In October 2023, she served as a leading expert for a Deep Dive discussion at Health Evolution Connect examining the role of value-based care in advancing health equity, and the company recently signed the organization's Health Equity Pledge. She was also an invited panelist for a discussion at VIVE in March about the role of virtual care in chronic disease management.
"We are extremely proud of Carmen for receiving this incredible honor from one of the leading healthcare publications in the country," said Bobby Sepucha, CEO of Interwell Health. "We are so lucky to have the benefit of Carmen's skill and experience as a clinician. But it is her compassion for patients and dedication to reimagining kidney care that is truly inspiring. With her leadership, we are helping patients live their best lives."
Under Dr. Peralta's clinical leadership, Interwell has continued to drive down hospitalizations for patients and improve the transition to treatments like transplant and home dialysis. Her work to develop and refine the company's care model has been critical to ensuring the patients most at-risk of advancing to kidney failure receive timely interventions. In addition to her clinical work, Dr. Peralta is strongly engaged in companywide diversity and inclusion initiatives, as well as the company's corporate social responsibility strategy.
Before Interwell, Dr. Peralta co-founded and served as the inaugural executive director of the Kidney Health Research Collaborative (KHRC) at the University of California San Francisco, and her research has been published extensively. She earned her medical degree at The Johns Hopkins School of Medicine and completed her residency in internal medicine at the Brigham and Women's Hospital. She completed her nephrology fellowship and earned a master's degree in clinical research at the University of California, San Francisco (UCSF).