Home dialysis can offer patients more autonomy, an improved quality of life, and better outcomes. Nationally, 13.3 percent of new patients on dialysis are treated at home, yet barriers still exist, particularly for underrepresented groups. According to 2021 data from the United States Renal Data System, only 10.9 percent of newly diagnosed Black and 11.9 percent of Hispanic patients started dialysis at home, compared with 14.8 percent of white patients.
Improving home dialysis utilization for all patients
Interwell Health is overcoming these obstacles through a value-based kidney care model that prioritizes patient education, nephrology care coordination, and nephrology referral.
Our interventions improve home dialysis access for all patients and have resulted in home dialysis start rates that far exceed the national average. In the first half of 2023, home dialysis start rates for patients in our government program rose to almost 120 percent above the national average, and our private payer home start rate rose to 30 percent above the national average.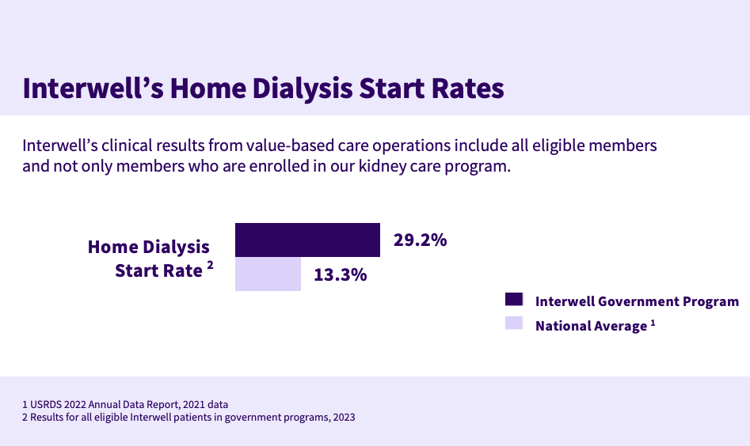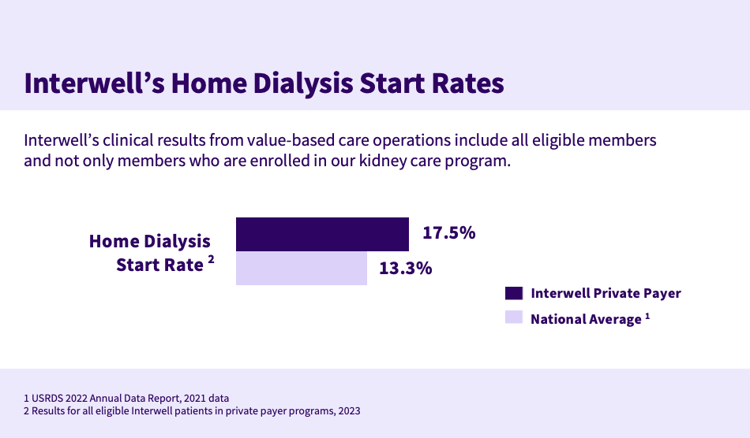 We're seeing even greater adoption as we combine our unique resources and expertise with our commitment to innovation. Data from the first half of 2023 shows our home dialysis start rate across all eligible members increased 18 percent compared to the previous year.¹
These results are clear indicators that Interwell's kidney care program can drive outcomes for large populations of 125,000+ members, at scale. We measure our results across all our eligible patients who need to transition to dialysis, not just patients who formally consent or enroll to work directly with our integrated care teams.
Early detection
Many patients don't realize they have chronic kidney disease (CKD) until it progresses to end-stage kidney disease (ESKD). Earlier detection gives them more time to learn about their options, including in-home dialysis treatment.
Interwell uses machine learning and predictive analytics to identify patients sooner and determine their disease stage, likelihood of progression, and risk of hospitalization. These insights allow our clinicians to provide the right care at the right time.
Jessica Demaline, senior vice president of healthcare operations, shared how these analytics guide patient interactions and interventions. "For a patient with slower progression, we can focus on managing their comorbidities and continue to delay progression," she said. "For patients who are found to be at risk for more rapid progression, we can prioritize dialysis modality education, setting up vascular access, and coordinating with transplant centers."
Patient education and care coordination
Interwell's patient education and care coordination eliminate common barriers to home dialysis. "We've seen patient education and coordination, especially when delivered early in a patient's care journey, improve health outcomes and ultimately the healthcare experience," Demaline said.
Patients are connected to a nephrologist and receive a personalized care plan and a dedicated care team of coordinators, nurses, dietitians, pharmacists, and social workers. "Utilizing a specialized care team ensures that we can meet people where they are in their CKD journey," explained Bianca Blanco, a nurse practitioner.
This holistic model helps to address the social determinants – such as education, housing, transportation access, and limited health literacy – that influence health and the ability to adhere to a care plan.
Patients also receive individualized education about their condition, information about dialysis options, and preparation and training for dialysis transitions. "We want patients to be confident in their choices and an active part of the decision-making process," Blanco said. "Whether that is helping to alleviate fears or misconceptions, removing barriers of social determinants of health, or being their support when choosing a dialysis modality."
Choosing home dialysis
Jessica Chang, a renal care coordinator, knows how impactful this education and coordination can be. She recently worked to transition a Black 53-year-old patient with advanced CKD to home dialysis. The patient was initially nervous and overwhelmed, Chang recalled, "so, we started with essential education about kidneys and kidney function, then we gave her materials about the different types of dialysis."
Chang continued to provide support as the patient considered her treatment options. When the patient eventually chose in-home peritoneal dialysis, Chang referred her to a modality educator and connected her with a local general surgeon.
Chang said in-home dialysis has allowed her patient to live a full and active life. "My patient works and is getting her master's degree – home therapy has given her the freedom to thrive."
Supporting nephrologists
It's not just patients who need support. Conveying the complexity of dialysis options to patients can be challenging for nephrologists. That's why Interwell provides practices within our Interwell Nephrology Network with the opportunity to access an innovative kidney disease education suite as well as an integrated care team that can work with CKD patients in between visits while adapting to existing practice workflows.
"Here at Interwell, one of our goals is to complement and support the shared decisions made by patients in conjunction with their nephrologists," said George Hart, MD, chief medical officer. "We can coordinate treatment plans which take place between visits, making sure that patients carry out the care plan their physician has crafted for them.
Bringing it all together
Home dialysis can feel overwhelming for many patients, but by intervening early and supporting patients – and their nephrologists – with planning, education, and coordination, we are meaningfully increasing the proportion of individuals who choose this modality.
Note
1. Results are based on clinical data and 2728 entries for all eligible patients from Jan-Jun 2023.