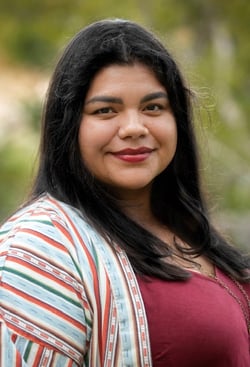 Mariel Baluja is a co-chair of LUNA
"You're going to have a lot of fun," Jaime Ortiz promised.
It was a Monday afternoon, and Ortiz, a renal care coordinator, was leading an online Zumba class from his dining room, which was decorated with colorful banners and a large Frida Kahlo painting.
Almost 50 Interwell Health employees had logged on to join him—lured by the prospect of dancing and moving together to a soundtrack of salsa, merengue, bachata, and cumbia music.
"Your office today is your dance space," Ortiz told the group. "It's your safe space!"
The class was organized by LUNA (Latinos Unidos Network and Allies), an Interwell Employee Resource Group (ERG), to celebrate National Hispanic Heritage Month.
Building familia
LUNA has built upon activities like this to create what members describe as an inclusive, collaborative environment to advance – and celebrate – the Hispanic and Latino community at Interwell Health.
"It's really all about building a sense of familia, or family," explained Mariel Baluja, a senior manager in the project management office and a co-chair of LUNA. This sense of familia is bolstered by a "very active" group Slack channel where LUNA's 50+ members can swap stories, recipes, photos, and guidance. "It's been incredible to witness the camaraderie," Baluja said.
"We have created an environment where relationship building is key. Our members share everything, from their reflections on the meaning of National Hispanic Heritage Month to photos of the baked goods they made over the weekend, health and family updates, networking opportunities, and everything in between."